Zach
Public Speaker and Self-Advocate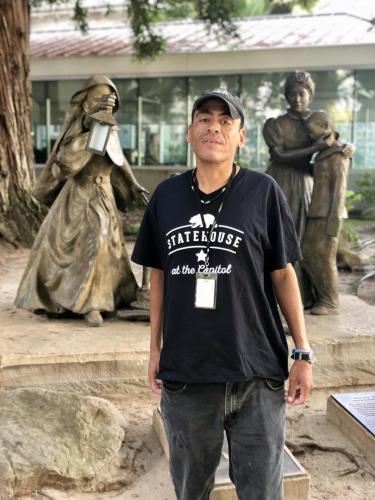 There are many things that make Zach so great, but he prides himself on being a public speaker, a self-advocate, and a man with a vision to inspire others to pursue their passions. This is all evident through his confidence; the way he carries himself, his eloquent speaking and the passion in his voice when he talks about his ambitions. Zach is no ordinary man and he plans to show the world why he isn't ordinary, and why his voice needs to be heard.
Since 2009, Zach has been a self-advocate and has spoken publicly in a variety of settings. He started public speaking because he wanted to share his story. Zach speaks about self-advocacy whenever and wherever he can, including a number of events and meetings. A huge moment in Zach's public speaking career happened in 2012 when he was invited to be the Keynote Speaker at the Supported Life Conference; an annual conference designed to bring professionals and self-advocates together to learn about the varying programs that impact the lives of those with disabilities.
It is my real dream job. I've always had a passion for [public speaking].
Zach knew that with public speaking comes work and he put in the effort to practice his speech skills since the beginning of his career. He hopes to transition into advocacy work full-time, along with getting a position as a Legislative Aid for an Assembly member at the California State Capitol. Because of his ambition and dedication to pursuing his dreams, Zach actively networks and applies for positions within the Capitol, most recently applying for a Legislative Aid position for Assembly Member Cristine Garcia.
While he works towards his full-time goals as an Advocate, Zach holds the position of Vice President at the Cal-TASH chapter leadership board. Cal-TASH is an organization that provides and promotes practices that all people should have the supports they need to live and participate in inclusive schools and communities. Zach proudly admits he was re-elected as Vice President, and feels humbled that he has the opportunity to positively impact so many lives.
Besides his busy life as a public speaker, Zach currently is employed at a café in the Capitol building in Downtown, Sacramento. He learned of the job from a friend who knew of the restaurateur opening the café. Zach was immediately interested, and begun
the interview process. He knew he had the experience to work in the café, having a background in restaurant industry before. When he was hired, he started part-time, alongside a friend, but over time, Zach was asked by the café owner if he would like to work full-time. He jumped at the opportunity and transitioned into a full-time schedule.
We are like a family here. We are very close. I have a close relationship with my supervisors.
Zach enjoys being a part of the team at the café and likes to take on additional responsibilities. Because of the close relationship of the team, Zach's supervisor participates in his IPP meetings. His passion for helping others is showcased through his work ethic and determination. He currently hopes to learn more recipes at the café and take on roles with more responsibility.