Steven
Volunteer and Teacher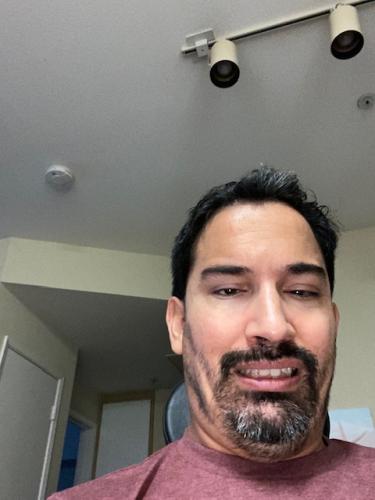 Steven is a well-rounded person who enjoys spending his time volunteering for committees, teaching children about disabilities, and watching movies. He is an articulate individual and advocates for people with developmental disabilities. Despite living in the midst of a pandemic, Steven maintains a positive outlook on life and is patiently waiting to decide what his future has in store while maintain his membership with committees at Alta California Regional Center (ACRC).
Prior to COVID-19 and social distancing measures, Steven was employed at United Artist movie theater for 20 years. A veteran employee, Steven is responsible for the overall upkeep of the movie theater entry and greeting patrons. His outgoing personality allows him to shine as a greeter, always providing a friendly smile to everyone and setting the atmosphere for a great experience. In addition to his greeting responsibilities, Steven maintenances the movie theater premises by keeping concession stand items stocked, walking and inspecting the perimeters to make sure there isn't any trash, and making sure the restrooms are clean. Working at a movie theater definitely comes with pros – he gets to watch a lot of movies!
When Steven isn't working – before COVID-19 – he teaches children about disabilities and volunteers at a library. His work as a volunteer not only allows him to keep busy, he also gets to help the community. Educating youth about disabilities helps them see the diverse world we all live in and it make the community a friendlier place because it teaches acceptance. Volunteering at a library allows Steven to fill his time with meaningful work and improve the community's overall education. Steven advocates for people with disabilities by serving on the Alta California Regional Center's Board of Directors, the Client Advisory Committee (CAC), and the Finance Committee. By being a member of these committees, Steven can provide information and feedback from a client's perspective to the Board of Directors and gain a better understanding on the finances of ACRC. Serving on the Board allows Steven to work with other individuals composed of community leaders, individuals with developmental disabilities, and family members to govern and oversee the planning and policy making of ACRC.
With COVID-19, Steven is patiently waiting to make his next decision to either continue his employment with United Artist movie theater or contribute more time to volunteering. Whatever he decides, he knows he wants to continue being an advocate for himself and others and educating people about disabilities within the community.