The seasons are changing and the temperatures are going up. It's that time of year to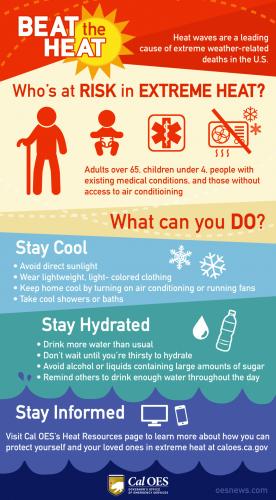 once again start considering the effects of warmer temperatures and take appropriate precautions to protect your health and safety
Prepare Early and Plan:
Stay alerted and sign up for county emergency notifications and alerts
Use a cooling center when available and needed
Contact your Service Coordinator for support
General Resources and Cooling Center locations:
More information on Excessive heat:
https://www.caloes.ca.gov/ICESite/pages/summer-heat-resources.aspx
Cooling Center Listing by County:
https://www.caloes.ca.gov/ICESite/Documents/County-Cooling-Centers.pdf
****as of June 9****
Sacramento County:
Here are respite and cooling centers opening in Sacramento this week – City Express (sacramentocityexpress.com)
With the National Weather Service forecasting dangerously hot conditions later this week, several public buildings in the Sacramento region are being offered as places where people can cool down and escape the heat.
Some buildings are opening specifically as respite centers; others are offering extended hours in public lobbies or are available for this use during regular business hours.
Public libraries and City of Sacramento community centers are open during their regular business hours, and people can use these air-conditioned buildings as places to cool off.
In addition, the County of Sacramento is offering three Department of Human Assistance offices as cooling centers over a three-day period. Here is a list of locations and hours:
DHA Annex (1725 28th St., Sacramento, 95816)
2:00pm to 8:00pm Thursday, Friday and Saturday
DHA Service Center (5747 Watt Ave., North Highlands, 95660)
4:00pm to 8:00pm Thursday and Friday
2:00pm to 8:00pm Saturday
DHA Service Center (2450 Florin Road, Sacramento, 95822)
2:00pm to 8:00pm Thursday, Friday and Saturday
The City of Sacramento also is activating the former Science Center at 3615 Auburn Blvd. – now known as the Outreach and Engagement Center — as a weather respite location. It will be open noon to 8 p.m. Thursday, Friday and Saturday.
The center can accommodate up to 50 people at a time and offers space for pets and belongings in addition to water, snacks and device recharging.