Mike and Natalie
Seamstresses and Community Advocates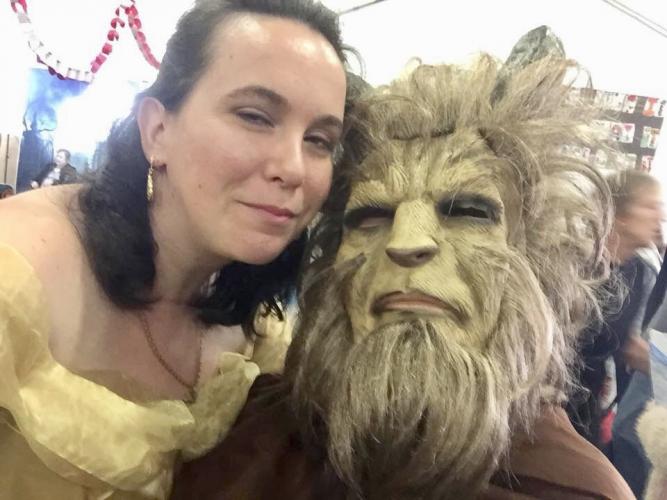 Mike and Natalie are highly creative and driven individuals. They have worked at Developmental Disabilities Service Organization (DDSO) part-time since the early 2010's. DDSO is a nonprofit organization based in Sacramento and Stockton which annually provides 400 adults with disabilities the opportunity to receive job training, gain employment, learn about physical education, and express themselves through visual and performing arts. Their welcoming and charismatic personalities help them communicate with students and employees alike at DDSO. Mike and Natalie train new DDSO clients on employment, encourage safety in the classrooms, and provide property maintenance. In addition to their job duties, Mike and Natalie offer tours to DDSO visitors, providing an excellent explanation of what the organization does along with showing the wonderful work students do there.
Natalie started working at DDSO in January 2011 and Mike started working at DDSO in 2012, however, the two met prior to their employment when they became clients of DDSO in the late 2000's. Natalie was immediately interested in Mike, and her outgoing personality made it easy for her to talk with him. Mike was initially shy, but after they broke through the beginning layers of friendship, they started dating and have been a couple since 2008. Mike and Natalie together have navigated the expectations and necessities of adulthood, pursuing new goals and dreams together.
One of their goals was to become advocates for individuals with developmental disabilities who may struggle being a voice for themselves. They now serve on the California State Council on Developmental Disabilities (SCDD), an organization whose mission is making sure people with developmental/intellectual disabilities and their families get the services and supports they need. Mike's and Natalie's easy-going and driven personalities made it easy for them to communicate for the voiceless through SCDD. They are grateful to be a part of SCDD and are making strides to become active advocates not only for themselves, but for the community.
Besides their advocacy work and part-time employment, Mike and Natalie attend classes at DDSO to further develop their artistic accomplishments. They are very talented seamstresses and make elaborate costumes from scratch, each with a couple's theme, such as "Beauty and the Beast," and "Mickey and Minnie Mouse." Some of the designs they created were featured in fashion shows hosted by DDSO. Not only do they create beautiful handmade costumes, they also are ceramic artists and enjoy creating little villages from clay.
Mike and Natalie are fantastic individuals who show daily they are strong, independent, creative, helpful, and thriving members of the community. Fellow staff members at DDSO described Mike and Natalie with extremely positive words, complimenting their helpfulness and how important their positions are in the organization. Upon meeting them, you cannot help but feel welcomed and reassured that they are going to do all they can to assist you with your needs. Their voices are perfect for their advocacy roles and they continue to make those around them feel proud of their work.