Kristin
Client Services Manager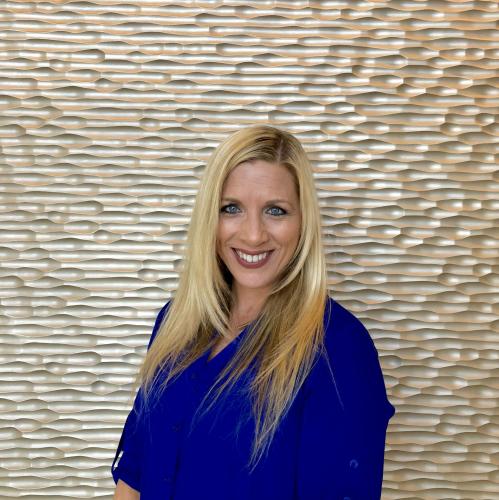 Kristin began her career at Alta California Regional Center (ACRC) in 1998 as a Service Coordinator in the Early Start program, which focuses on providing early intervention services for families with a child with a developmental delay or established risk or high-risk condition, from birth up until their third birthday. She received her Bachelor's degree in Psychology, and her Master's degree in Social Work, providing the technical knowledge necessary to effectively help our clients. But it's her passion and drive for helping clients that truly makes Kristin such a valuable member of ACRC's team. She is a light for families and her contagiously positive personality contributes to the wonderful work culture of ACRC.
Because of the encouragement, support, and knowledge Kristin received from her direct supervisor during her time as a Service Coordinator, she was inspired to pursue the role of Client Services Manager. After a four-year stint away from ACRC to raise her son, she returned to ACRC in 2013 as a Service Coordinator, and was then promoted to Client Services Manager (CSM) in 2017. With years of knowledge and experience as a Service Coordinator, Kristin supports her staff as a CSM using many of the techniques she learned from her previous supervisor, and indirectly she helps the over 700 clients her staff serves. She attributes much of her success now as a CSM to her previous supervisor, proving that ACRC is much like a family.
Even though she wasn't an ACRC employee for four years, she remained connected. Her love for ACRC's mission and her drive contributes to her dedication in supporting our clients and their families. Every year for the past 22 years, Kristin volunteered as a photo elf for her favorite event, Santa Day. This is a yearly experience hosted by ACRC, designed to provide clients and their families a sensory-friendly opportunity to take a picture with Santa. Her outgoing personality and understanding of the needs for, our clients made it easy for her to interact and get a picture-perfect shot of them, creating a lasting holiday memory.
Kristin describes her love for serving families in Early Start as something that has always been a part of her career. She recognizes that her unit is often the first to see families after they receive news of their child's developmental concern. Not only does she understand the importance of finding the appropriate services and supports that are applicable for the family, she also knows that empathy is a big part of their work because the families could be in a state of shock or grieving over the news. Kristin's team is very skilled in meeting families where they are in their grief journey. She knows that families and clients need support along with the educational piece that helps them to know what steps to take and how they can and will persevere. In Early Start, their philosophy is to coach families on how to be their child's best teacher. Kristin said, "You never know when you're impacting families; we really have an impact with the work we do."