James and Cindy
National Pet Week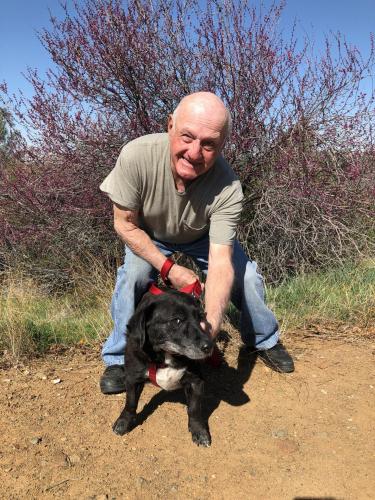 James is an avid lover of animals and believes in helping animals big and small. As a child, he grew up on a farm and was surrounded by animals, finding friends in furry creatures. When he met his dog, Cindy, at the local animal shelter he volunteered at, it was love at first sight and they have been inseparable for 10 years.
Cindy is James' best friend and he dotes on her with toys and affection. James happily bragged about how she gets groomed often and accompanies him everywhere she can go. Because of his love for Cindy and passion for caring for animals, he frequently reminds the community the importance of taking care of a dog and not to adopt a dog with the purpose of leaving it out in the yard. James firmly believes pets are a part of the family, and they need to be treated as valued member.
James' firm conviction led him to his philanthropic pursuits for the care of animals in his community. He inspired his local church to help him sew blankets and dog beds to distribute to local animal shelter. His idea was so loved by the community that he was featured in the local newspaper!
Along with his desire to care for animals, James helps others find their new furry friend. When Pam, his ILS worker, was saddened by the passing of her dog, James helped her find a new friend named Jack. Even better, Jack and Cindy have become close while Pam provides ILS services for James.
Cindy really personifies the old adage, "Dogs are a man's best friend," – she sure is James' best friend!