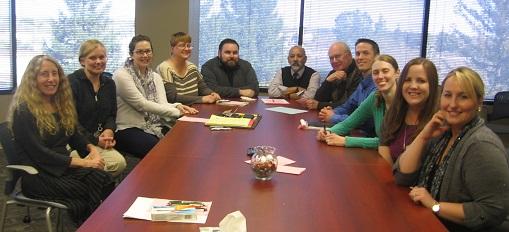 The Clinical Team at Alta California Regional Center is composed of Behavior Specialists, Clinical Psychologists, Nurses, Physicians, and a Speech and Language Pathologist. The Clinical Team works very closely with the Intake, Early Intervention and Service Coordinator staff in all ten counties to ensure timely delivery of services.
Clinical services provided by the Clinical Team include:
Bates Specialized Care for Medically Fragile Infants and Children
The Clinical Team provides direct medical and nursing consultation with the development of health care plans by a client's physician and coordination with Community Care Licensing.
Behavior Services
ACRC Behavior Specialists provide consultation, training, and support to Service Coordinators, families and community programs. The Behavioral Specialists offer Behavioral Parent Training classes for families interested in learning effective teaching at home. In addition, Behavior Specialists serve as part of the Clinical Team to provide assessments for clients to help determine their need for behavioral services.
Case Conferences
Nursing, medical, behavioral, psychological, and speech pathologist case conferences are offered to the Service Coordinators, clients, residential care providers, and parents to help sort-out complicated medical, behavioral, mental health, and medication issues.
Community Education
The Clinical Team collectively or individually, offers lectures on topics related to regional center services and/or the developmental disabilities. These presentations are provided to ACRC staff and service providers.
Consent for Care
By the Lanterman Act, Alta California Regional Center Physician may provide medical consent for care for individual clients who are non-conserved and are without involved family members. Appropriateness of care must be within standard health care practice parameters. Consent is not provided for controversial procedures, for example: abortion, sterilization, HIV testing, and Do Not Resuscitate orders.
Developmental Center Community Placement
The Clinical Team helps support community placement of clients with coordination of necessary health care services.
Diagnostic
The Clinical Team provides medical, nursing, dental, and psychological assessments for determining a diagnosis, and providing treatment monitoring and health planning for individual clients.
Clinic consultations are offered for cases involving Down Syndrome, neurodevelopmental disorders, genetic disorders, psychiatric disorders, autism and general health reviews.
Clinic consultations are offered in all 10 county offices.
Individualized health care plans are monitored for IPP and IFSP health reviews.
Preceptorships are offered for nurses, doctors, and psychologists in training for special health needs of individuals with developmental disabilities.