Benjamin
Completes a Triathlon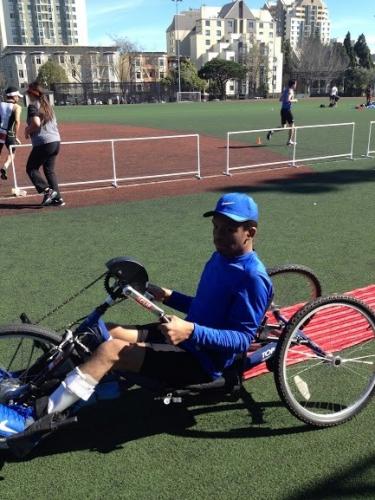 Benjamin is a young man who has set goals for himself and has worked hard to achieve them. He was diagnosed with Cerebral Palsy (CP) after a brush with death at birth. Doctors told his mom that he would never talk or walk but he proved them wrong by saying his first words at age four; the following year he took his first steps.
Growing up with CP, Benjamin longed to be like other kids. He was worried when he started high school that other kids wouldn't accept him; he was wrong! He found that students did accept him for who he was and that no one made fun of the way he walked and talked. He was even voted Prom Prince his junior year!
For his senior project, his advisor helped him decide to take on the challenge of learning how to swim and ride a bike, two skills he had always wanted to accomplish. He suggested he do so by completing a triathlon; a three part sporting event that includes running, biking and swimming and Benjamin agreed. With the help of his adaptive P.E. teacher and the guidance of a personal trainer, he committed to working out at Game Fit and swimming each week at the YMCA.
On February 14, 2015 with family and friends cheering him on, Benjamin swam for ten minutes, rode a specialized recumbent bike for thirty minutes and ran for 15 minutes, to complete his first adaptive triathlon!
His plan for the future is to attend American River College for two years and get his Associates of Art degree in computer science then enroll in a program that will prepare him for work as a music producer.
"You see, I might have Cerebral Palsy but I do not let that define me."