Jennifer
Active and Hard Working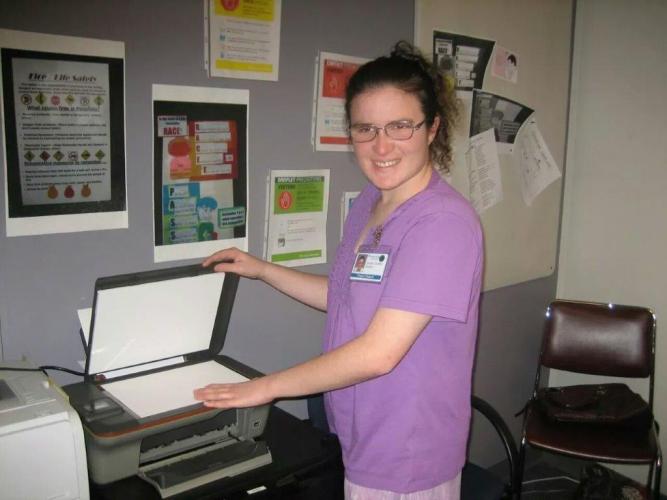 Jennifer, a 23 year-old regional center client, recently participated in the Project Search internship at Kaiser while a student at Laurel Ruff School. Jennifer interned in the operating room, lab, and intensive care unit. She was given clearance for special access areas of the hospital and was able to watch operations. She was given duties that included making beds, organizing and stocking supplies, even transporting body parts to the lab! Her supervisor found her to be responsible, reliable, and willing to volunteer for extra projects. She made a great impression during her internship, and Kaiser chose to hire her on. She now has an on-call position in the clinical pathology lab, and works up to fifteen hours a week.
Jennifer is involved with TRS (Therapeutic Recreation Services) and loves to be included in their social activities. She is an active young woman who enjoys fishing, jogging, riding her bike, working out at the gym, participating in church activities, going to camp, attending dances, working on the computer, listening to music on her iPod, playing the Wii and talking on the phone. She is very athletic and participates in Special Olympics (bowling, track, soccer, softball, swimming, floor hockey and basketball). This past year, Jennifer successfully rode in the bicycle portion of Eppie's Great Race – completing all 12.5 miles!
Jennifer lives with her family in North Highlands. Her personal goal this year is to start working full time, be a better friend and meet new coworkers. We have no doubt that Jennifer will accomplish these goals, and more!