Xavier
Thriving and Growing
When Xavier's parents, Samantha and Thomas, received his post-natal diagnosis of Down Syndrome, they were worried. The initial expectations every parent has for their child melted away. The primary concern was Xavier's health; he was born 3 weeks early and was sent to the NIC-U to be provided early care.
Despite the initial trauma of Xavier's premature delivery and hospitalization, he has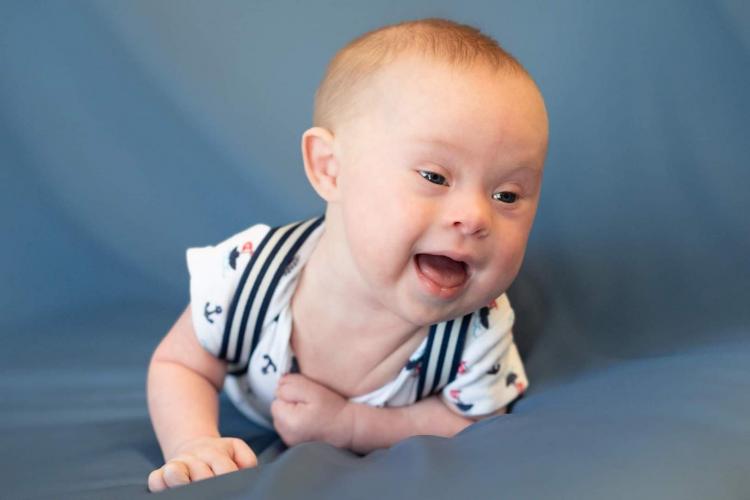 made great strides at 5 months old. He is surrounded by loved ones and his social personality shines with every person he interacts with. He is vocal, and has the benefit of speech therapy to further his "talking" skills. Weekly, Xavier and his family have doctor appointments to check on his health and growth.
As time continues, the family is getting acclimated to Xavier's needs. His mother, Samantha, has a background in mental health, which has provided her the knowledge needed to manage and adjust to the changes in her and her family's lives. She appreciates all the small moments with Xavier, because it allows her to stop, breathe and recognize how amazing he is and how much he has accomplished. Things like Xavier eating and gaining weight have really helped the family recognize the little blessings in their lives.
Xavier's sisters, Amelia and Addison, shower their brother with love. All around them, support groups and friendships have strengthened. Family offer to help in any way they can. They remember to take one day at a time, and pause to celebrate. One of their favorite milestones is Xavier learning how to "social smile" when interacting with others. His mother feels uplifted every time she sees his smile and it serves as a reminder that they can do this!
Thomas and Samantha feels appreciative of the help and support they have received from family, friends, therapists, and from their Service Coordinator at Alta California Regional Center.