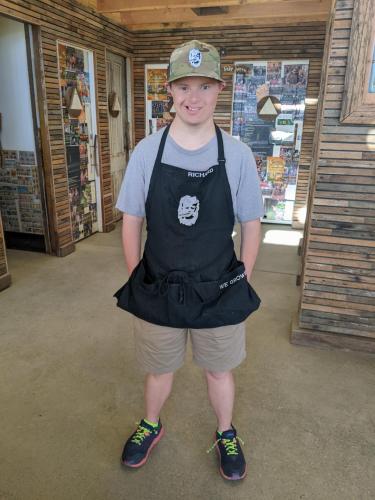 Tommy works at Ruhstaller Farm, where he is a proud bus boy. He loves his job because he enjoys interacting with people, seeing the celebrations that take place (like birthdays and anniversaries), and the lively atmosphere. He also enjoys partaking in the beers they have available during his time off and appreciates that they frequently have live music performers.
Besides his job as a bus boy, Tommy owns a business called T's Tacos n' Tunes where he caters for birthday, graduation, and retirement parties and more. He started the business in 2013 and hopes to resume catering services as it went on pause due to the pandemic.
When he isn't working or catering, Tommy loves to dance. His goal is to become a go-go dancer and hopes to be professionally trained in it, but he gets practice in by dancing in nightclubs. Dancing lets him be free and he loves how he can move and enjoy the music. Tommy is the life of the party in any social situation, and is always happy to attract a crowd or meet new people when he is out.
Pride Month is important for Tommy because he is gay and it's "super cool." He knew all his life that he is gay and Pride Month celebrates love and teaches acceptance for everyone. Being gay is as much a part of Tommy as working or dancing is, and he is happy to live the life he has.