Reyva
Advocate and Parent
Reyva is soon to be a graduate of Sacramento State with a Bachelor's degree in Social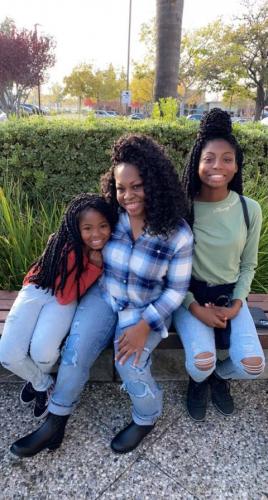 Work, a mother and an advocate for herself and for her daughters. Despite a tumultuous upbringing and becoming disabled at the age of 4 months, Reyva always felt motivated to prove to herself that she is capable and can achieve all of her goals. Now, she is excited to begin her career and be a role model for herself and for others.
At 4 months old, Reyva was as she describes a "casualty of war" when her mother was involved in domestic violence. Due to the accident, Reyva became disabled with Cerebral Palsy and spent much of her childhood in and out of hospitals for corrective surgeries. It wasn't until 7 years old that Reyva began walking. Her first steps would lead her on a path of "normalcy,". In adolescence she began doing what other teenagers did: sneaking out to go to parties, wearing heels despite the pain, and joining in on social activities.
Reyva's pursuit of independence and inclusion was her way of surviving the foster care system. At 4 years old, she was put into the system and her mindset became "sink or swim." That mentality sustained her throughout most of her life as she worked to pursue her goals. Nearing the end of aging out of the system, Reyva was adopted and was loved by her adoptive family. She had a close relationship to her adoptive parent until she passed away at 93 years of age. Despite her disability, her family never treated her differently and expected she participate in household responsibilities just like everyone else in the family. This taught her independence.
Now, as an adult with a degree around the corner and two daughters of her own, Reyva has changed the way she thinks. Before, she sought to prove herself to others due to the experiences she faced. Her perspective has changed to proving to herself that she is going to succeed and that she is enough. Her goal is to be the best person she can be and be a role model for her daughters, one of which was diagnosed with developmental delay and the other with ADD. She maintains her independence and advocates for herself and her daughters.
As she continues to experience life and accomplish her goals, Reyva was able to experience a holiday season with her biological mother and two sisters. That time she had with them was really special to her and demonstrates how far she has come in her life.