Jason
Comic Book Artist and Creator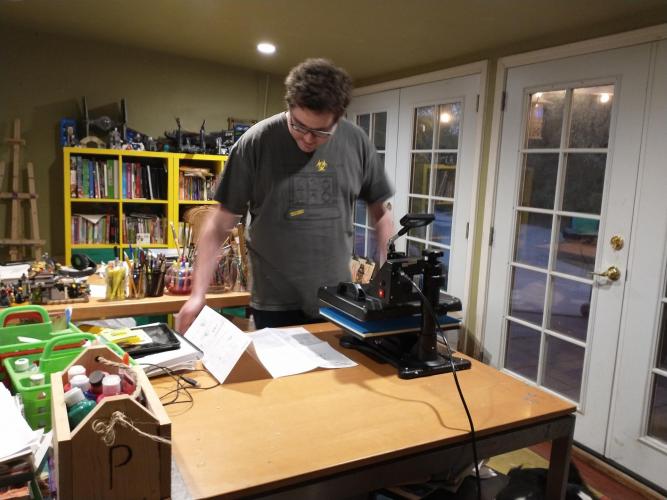 Jason is a naturally artistic person with a mind designed for creativity. He has created characters, designed t-shirts, and is even developing a comic book! Jason is ambitious and goal-driven, spending most of his time developing and perfecting his passions. He persevered through the difficulties of having expressive and receptive language disorder and Autism, finding a way that works for him to not only create and express himself, but also generate income and build a business.
Jason's parents first learned of his artistic fascinations when he was 3 years old listening to an Italian opera singer. At the time, he was nonverbal and hearing music allowed him to express himself in a new way. When he was 11, Jason fell in love with playing the piano. This new creative interest hinted at his future as a creator, painter, comic book artist, and eventually a business owner. His teenage years opened a new door of passion when he began drawing and sketching, emulating the cartoons and the movies from the Marvel and DC universe that he watched. It was also his escape during his high school years where he struggled to make friends. He spent his time drawing on his lunch break, designing a character named Rodoman as a self-reflection of himself; strong, talented, brave, a fierce fighter, and a hero.
Rodoman was the catalyst to the comic book universe Jason devised mentally. He expanded the universe by creating hundreds more characters, daydreaming about each of their abilities and personalities. His creative thinking led him to attending programs with Meristem and TRS to gain a better understanding of drawing, color theory, and design. Jason never shied away from learning something new. He was always willing to research new information to further his knowledge about art and the application of creativity.
Currently, Jason is working on writing and illustrating a comic book. His stories are being organized and developed to explain the universe surrounding Rodoman, along with creating new characters. Jason's brother has been instrumental in the process, helping him construct the comic book. In addition to the comic book, Jason owns an Etsy shop called MorternComics where he sells his designs. Including T-shirts featuring his comic book characters. He takes pride being involved in every step of the process from drawing the pictures, to transferring the images onto t-shirts using his own hot press. Jason and his parents have received guidance from the Fly Brave Foundation, helping him curate a business plan and actualize his goals.
Stan Lee has been a huge role model for Jason and has helped him dream big. Jason's future goals are having his comic book sold in stores, to become a professional animation artist, expand his comic book universe, and grow his t-shirt business. Much like Rodoman, Jason applies hard work and perseverance to achieve his goals.