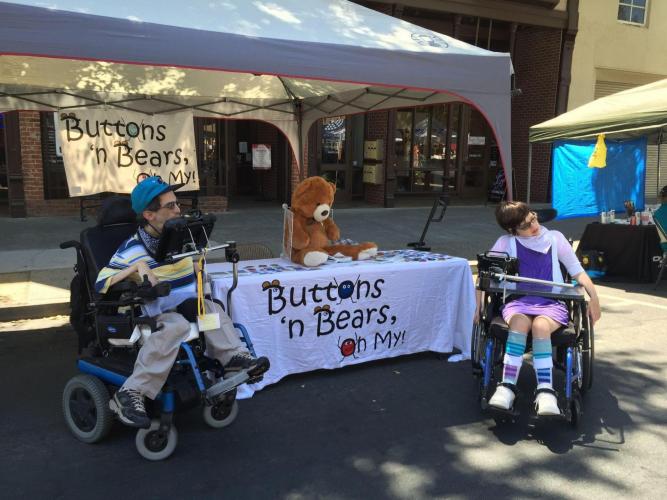 Jackson and Anna both live in Davis, CA, where they grew up and went to junior high school together. They have busy lives volunteering in their community, and both say that they relate well to kids.
With help from the micro-enterprise coordinator and business support teams, and with regular meetings about self-employment, Jackson and Anna were each able to explore their talents, try out business ideas, and eventually decide to become business partners.
Jackson and Anna both graduated from high school in 2002 with some idea of what they liked to do. Jackson knew he was interested in working with computers and software. He was teaching himself to use Adobe Photoshop for graphic design and was very good at creating pictures to make people laugh. As Jackson got better with Photoshop, he and his business support team brainstormed on business ideas.
Jackson met every two weeks with the micro-enterprise coordinator and business team for business development planning. His team helped him do a feasibility study by learning if there was a market for selling their art. Meanwhile, Jackson decided to get more training with Adobe Photoshop at Sacramento City College to improve on his skills.
With better computer and Photoshop skills, Jackson used his savings to buy a laptop and camera. He continued his regular business meetings every two weeks, to discuss his progress, keep track of any income he had made from selling his artwork, review whether his ideas had worked or not, and come up with a new list of ideas and tasks.
Meanwhile, Anna had a job helping kids build teddy bears at Build-A-Bear Workshop. Similar to Jackson, Anna was working with her business support team on a feasibility study of her own business ideas.
The team considered ideas such as selling stuffed animals from a cart. Then Anna bought beautiful stuffed animals and tried displaying them in the window of a flower shop, but they did not sell.
Because she likes to operate machinery, Anna's support team suggested that she learn how to make buttons and magnets. She liked this idea and bought a button machine with her own funds and had it adapted at a local hardware store so she could push down the lever more easily. But she still needed someone to design the buttons she wanted to sell.
Jackson's team realized that he would be the perfect business partner for Anna. When his team suggested the idea to Jackson, he loved it and they developed the business further through their partnership.
Buttons 'n Bears, Oh My! was developed and has been in business since 2008. Along with custom buttons and magnets, customers can buy stuffed animals, appropriate for all gift-giving occasions. Buttons and magnets for Save-the-date for weddings or baby showers are also popular. Businesses also use buttons to honor their staff.
Anna and Jackson, supported by their business team, work with individuals and organizations to find the right design for any occasion. During the infancy stage of the business Anna & Jackson went door-to-door marketing their business landing them in offices of those running for city offices. They laugh saying their buttons do the trick because every candidate that has used their buttons to campaign has won the elections. They also attended several vending events in the community and quickly learnt the better selling events and the least productive. As the business evolved the marketing strategy has been tweaked to meet the market demands. The business has gained customers largely through word of mouth, referrals, selling at events, using a sidewalk advertising billboard and Jackson's growing skills marketing their business through social media.
Jackson and Anna have a busy schedule selling their merchandise from their office in Davis and at local community events and creating buttons and magnets specific to each event. When Buttons 'n Bears, Oh My! is exhibiting at community events and conferences, Anna and Jackson can always be seen designing and creating their latest work. Campaign button order of 2000 buttons is the largest single order to date.