Abby
Dancer and Model Citizen
Abby is a client of the regional center and an accomplished dancer. She is very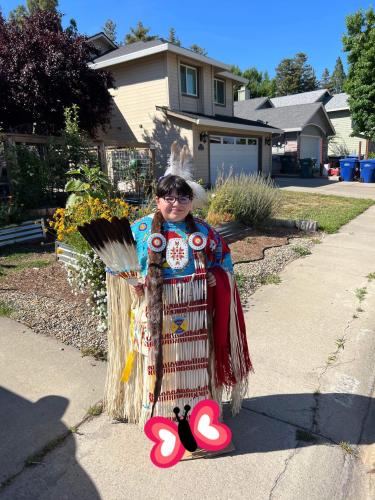 involved in the Pow Wow arena and performed in the Nutcracker as an angel. Abby is an enrolled member of the 3 affiliated tribes Mandan, Hidatsa, and Arikara. She is an ambassador for her people and will share her culture by taking time to visit her cousins' schools and educating the students on her heritage. She enjoys sharing stories, dancing and singing.
When Abby was introduced to the Hidatsa clan, her grandmother gave Abby the name Ida Ooqcia Iraaxi, which means "Her Night Spirit." The Hidatsa language had a major part in Abby's communication, as she had a speech delay and had difficulty understanding words in English. But she could communicate in Hidatsa as the language is very literal and logical, for example, "black water" means coffee. This approach speaking was natural for Abby to understand
Abby's true style of communication was through dance. In fact, UC Davis wrote a on Abby's dancing. Her accomplishments as a dancer have made her a model citizen for the community, and she was honored with the title Junior Miss Oroville Princess. This meant that she had the responsibility to wear banners and crowns, travel to other Pow Wow's, introduce herself and spread the word about her tribe's Pow Wow. She enjoys attending Pow Wows because she feels safe, gets to dance, and be with friends and connect with her relatives. They are her safe place and accept Abby exactly for she is.
Besides being a model citizen, Abby is in the process of becoming a Master Builder Legos. In the garage of her home, Abby is building an entire Lego city! It is her dream go to Legoland, specifically she wants to attend the Halloween themed season.